Leisure or Livelihoods: Outputs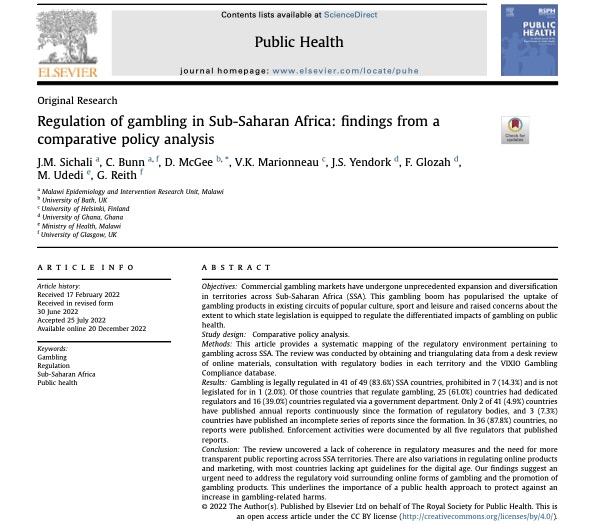 Click the image above to navigate to the Open Access (free) text of the full research paper.
You can also watch the lead author of the paper, Junious Sichali, present the preliminary findings from this policy review at the Inaugural Gambling Realities conference, held in July 2021
Regulation of gambling in Sub-Saharan Africa: findings from a comparative policy analysis

Objectives
Commercial gambling markets have undergone unprecedented expansion and diversification in territories across Sub-Saharan Africa (SSA). This gambling boom has popularised the uptake of gambling products in existing circuits of popular culture, sport and leisure and raised concerns about the extent to which state legislation is equipped to regulate the differentiated impacts of gambling on public health.

Study design
Comparative policy analysis.
Methods
This article provides a systematic mapping of the regulatory environment pertaining to gambling across SSA. The review was conducted by obtaining and triangulating data from a desk review of online materials, consultation with regulatory bodies in each territory and the VIXIO Gambling Compliance database.

Results
Gambling is legally regulated in 41 of 49 (83.6%) SSA countries, prohibited in 7 (14.3%) and is not legislated for in 1 (2.0%). Of those countries that regulate gambling, 25 (61.0%) countries had dedicated regulators and 16 (39.0%) countries regulated via a government department. Only 2 of 41 (4.9%) countries have published annual reports continuously since the formation of regulatory bodies, and 3 (7.3%) countries have published an incomplete series of reports since the formation. In 36 (87.8%) countries, no reports were published. Enforcement activities were documented by all five regulators that published reports.

Conclusion
The review uncovered a lack of coherence in regulatory measures and the need for more transparent public reporting across SSA territories. There are also variations in regulating online products and marketing, with most countries lacking apt guidelines for the digital age. Our findings suggest an urgent need to address the regulatory void surrounding online forms of gambling and the promotion of gambling products. This underlines the importance of a public health approach to protect against an increase in gambling-related harms.
Young People and Gambling in Sub-Saharan Africa: Towards a Critical Research Agenda
Recent decades have seen gambling become a highly lucrative industry across Sub-Saharan Africa. Fueled by the democratisation of access to digital finance and internet technologies, this gambling boom has been concentrated in Africa's urban economies, where expanding youth populations are increasingly connected to global circuits of sport, popular culture and speculative forms of consumption. This has engendered growing interest in gambling as a distinct and emerging field of academic inquiry across Sub-Saharan Africa. To date, psychiatric, epidemiological and behavioural sciences have provided the dominant frame for measuring the extent of 'problem gambling' and addiction, but there remains need to expand and diversify the field to encompass more critical and interdisciplinary approaches that recognize gambling as a densely significant social and cultural phenomenon. This article aims to provides a point of departure for a critical research agenda on the differentiated impacts of gambling on young people and their communities across the continent.
This literature review has been published in the Journal of the British Academy. You can access it for free here. 
We worked with two groups of young people, 24 each in Ghana and Malawi, during 2022 to investigate gambling practices in their communities in Accra and Lilongwe. The young people designed their own approach to collecting stories from their communities, produced photovoice content representing these stories and created a series of artistic representations of their enquiries. These included songs, dramas, dances, poetry, speeches and testimonies. 
The two groups of young people then shared their findings with their local communities and policy makers at a series of events in the two countries. Over the course of 2023, the young people's creative outputs will be shared via media and archived on this site.
Academic papers on the methods and findings of this aspect of the project are in preparation, as are policy briefs.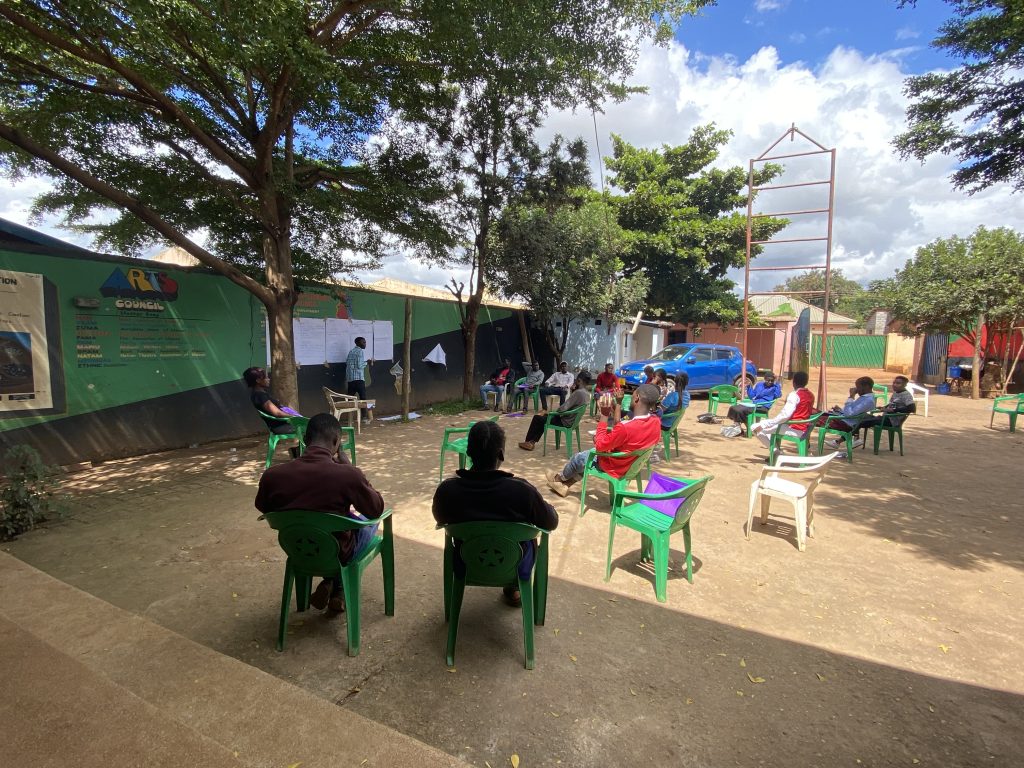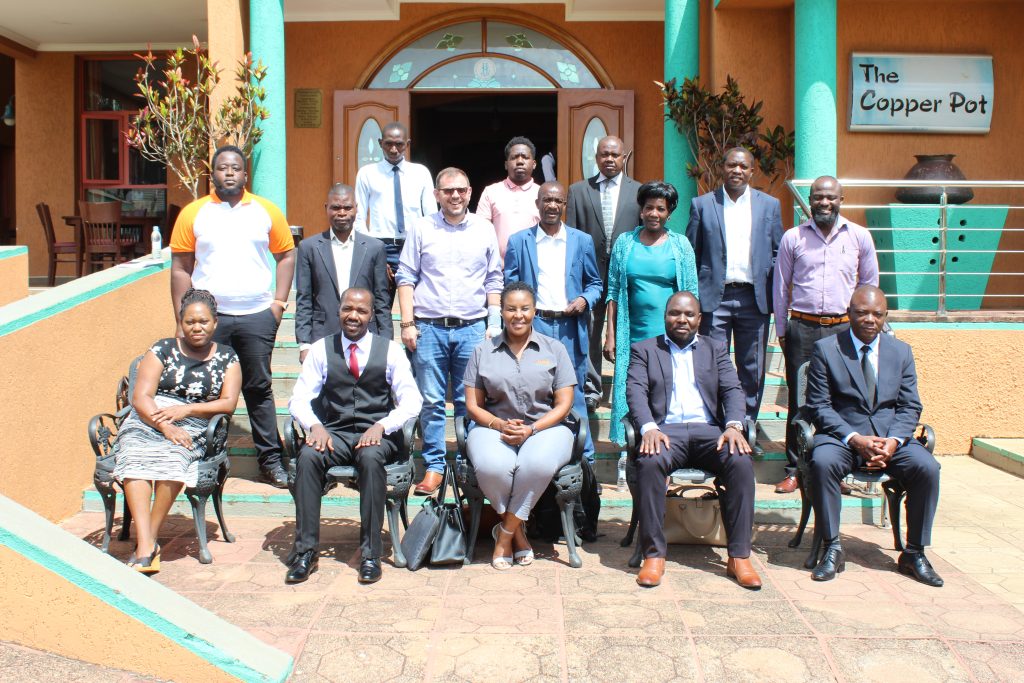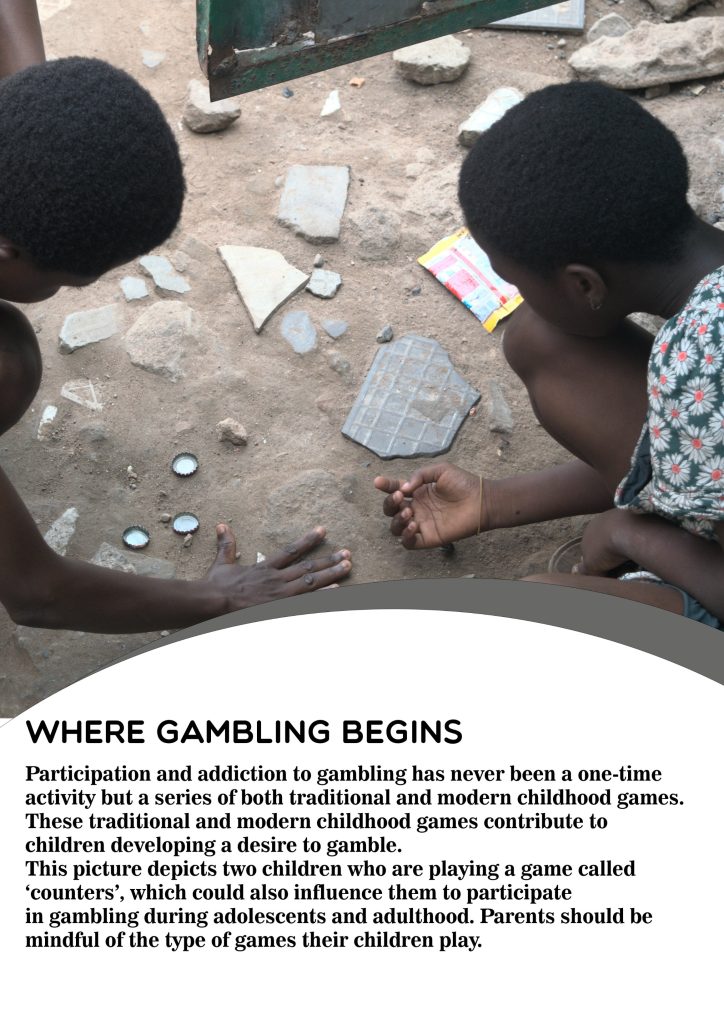 The project has generated a large collection of creative outputs, including more than 40 photovoice pieces. These have been exhibited in the Ghana and Malawi, alongside showcases of the creative outputs the young people generated during the course of their enquiries. We are currently preparing an archive for public consumption. In the meantime, you can view some of the photovoice outputs in this Twitter thread.